I currently have some sketches and paintings on display at L'Artishe Gallery in Swanage – all the work in this exhibition was created in 2016 during the PAW sketching days out .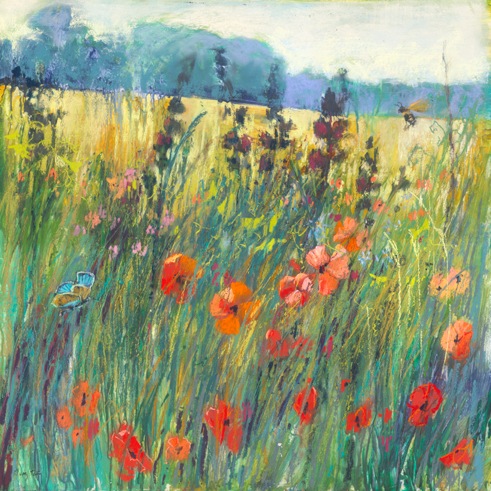 Purbeck Art Weeks was from Saturday 28th May until Sunday 12th June 2016. I will exhibiting again in 2017. For full details 'like' my facebook page ( Judy Tate Artist ) and I will post all events and dates as and when I know them.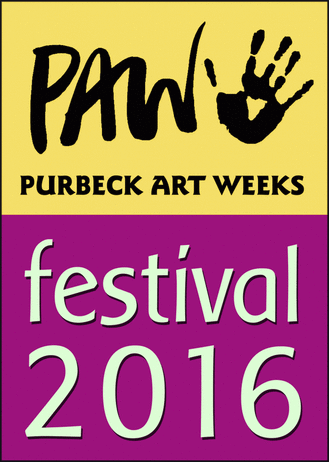 I am absolutely delighted to have a painting entitled 'End of Summer' accepted for The Pastel Society 2016 exhibition at The Mall Galleries in London.
23 February 2016 to 5 March 2016   b10am to 5pm (closes 3pm on final day)
Mall Galleries, The Mall, London SW1
End of Summer
Soft pastel
The New Year brings a new exhibition at The Gallery at 41 in Corfe Castle , and with it some new paintings of mine including :-
Ebb and Flow
Soft pastel
The Christmas Collection 19th November to 23rd December 2015 at The Gallery at 41.
My newest paintings will be included in this latest exhibition including:-


The travels and adventures of a small ceramic chicken as it makes its way around the art world.
Artists from across the globe are sharing their ideas through paint and drawing, as the Travelling Chicken inspires new work! In November I was one of those artists and painted TC en-route from Bournemouth to Scotland. To find out more please see:-
travel-chicken.blogspot.com
Article in Dorset Life 2015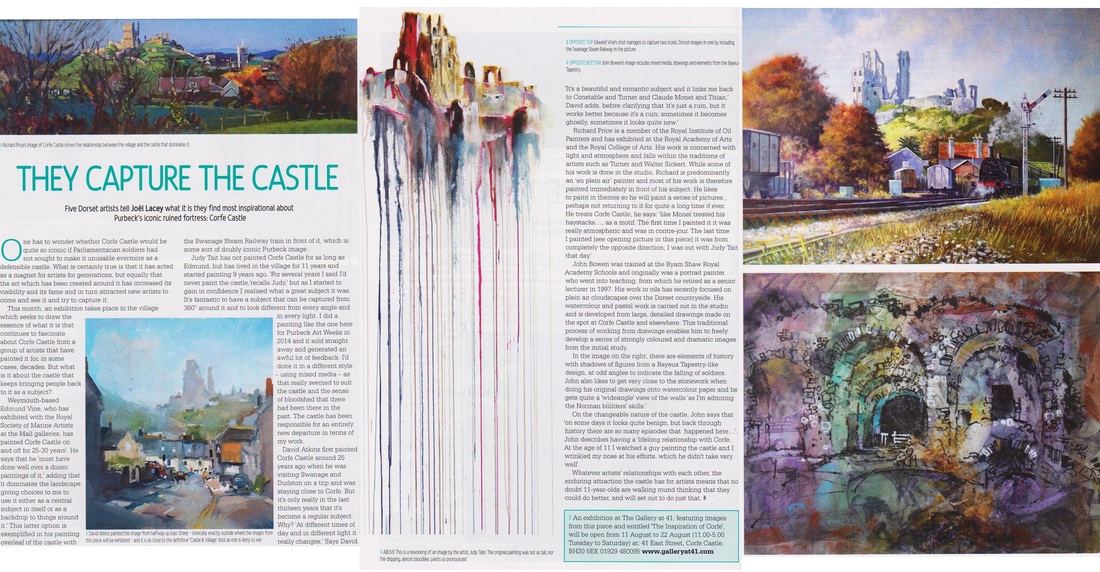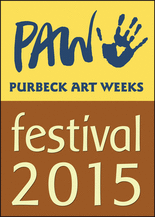 PAW 2015
This was a tremendously  successful festival during which I had an Open Studio with  Emma Louise Grinsted. We had several hundred people coming to see our work over the fortnight with lots of extremely positive feedback and excellent sales. 

2015 One of my paintings was accepted for the annual Pastel Society exhibition at the Mall Galleries in London. The exhibition was entitled 'Look Again' and featured many of the top pastellists in the country today.
My painting is entitled 'Yorkshire Dales'
I was featured in Dorset Magazine of Feb 2015
I was delighted to have had two paintings accepted for the 153rd Society of Women Artists annual exhibition, at the Mall Gallery near Admiralty Arch in London. They were on display from Thursday 26th June to Saturday 5th July 2014.
Purbeck Art Weeks 2014
I held  an Open Studio at The Old Curatage with Angie Holland.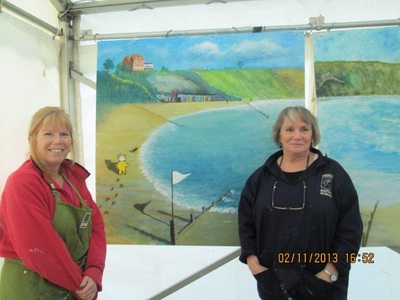 In early November Judy and her friend Angie Holland painted the left hand segment of the Children in Need Swanage Bay project.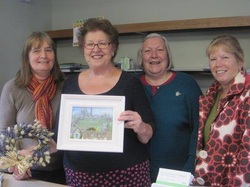 Judy's painting of Corfe Castle was the retirement present of Corfe's long-standing community librarian.
The presentation was in late October.
In 2013 Judy exhibited in the GreenAcre Gallery Wexford in South East Ireland, in Enniscorthy Co Wexford and two of her works on display in Maryland Hall, Annapolis USA.
2013 RHS Gardens Rosemoor Devon
Ten of Judy's paintings went on display in the Rosemoor House apartments (Magnolia, Camellia and Azalea) in the RHS Gardens in Devon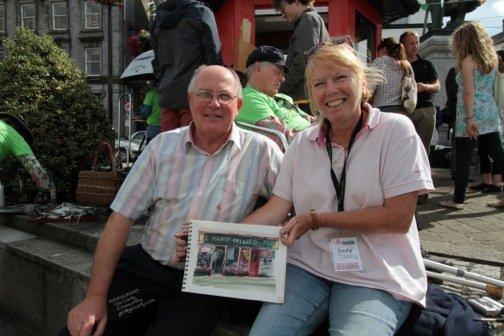 Art in the Open 2013
The 6th Irish En Plein Air festival in Wexford , Ireland