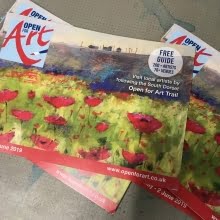 Really excited to be involved in Open for Art 2019 in south Dorset. Not only am I opening my own studio but am also coordinating 19 other venues in Poundbury. Brochures just arrived and probably time to be sorting my studio out!
Saturday 18th May to Sunday 2nd June over 200 artists and 70 venues are opening their doors for a Creative Fest. Not having done this since moving, nearly 2 years ago, it will be interesting to see how all goes .
Anyway my studio will have 5 very different artists exhibiting their work. Me obviously, Mark Page with his drawings ( hares included!), David Metcalff with his chicken wire garden sculptures, Plaxy Arthur with her ceramics and Angie Holland with her moody seascapes .