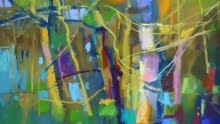 The Pastel Society's 120th Annual Exhibition
Join us for the Private View:
Monday 4 February, 2pm to 8pm
Official opening and prize giving at 6pm by Alistair Burtenshaw, Director of Watts Gallery Trust.
The Pastel Society is recognised as foremost in its field, a magnet for brilliant exponents of the pastel medium showing the work of leading contemporary artists as well as encouraging work by new artists yet to be established.
Works from the exhibition will be available to Browse and Buy online from 21 January.
The Annual Exhibition will mark twelve decades of the Society championing all dry media by featuring over 200 works created in pastel, pencil, chalk and charcoal. It will also award prizes including several specially for emerging artists working in dry media. The largest of these is the Alfred Teddy Smith and Zsuzsi Roboz Prize, an award of £5,000 for traditional skills used in an original way.
There are a number of events, drawing sessions, talks and demonstrations by member artists taking place during the exhibition. Full details: www.mallgalleries.org.uk
Artists use the medium for its vibrant colour, vitality and immediacy and the works range from the abstract to the photorealistic. With prices starting from £300 it is also a great place to pick up an original work of art.
The Pastel Society Annual Exhibition
Mall Galleries, The Mall, London SW1
5 to 16 February, 10am to 5pm (closes 3pm on final day)
www.mallgalleries.org.uk